Luyện thi FCE, speaking online
Free Practice Tests for learners of English
Chào mừng quý vị đến với website của Phan Thanh Tân
Quý vị chưa đăng nhập hoặc chưa đăng ký làm thành viên, vì vậy chưa thể tải được các tài liệu của Thư viện về máy tính của mình.
Nếu chưa đăng ký, hãy nhấn vào chữ
ĐK thành viên
ở phía bên trái, hoặc
xem phim hướng dẫn tại đây
Nếu đã đăng ký rồi, quý vị có thể đăng nhập ở ngay phía bên trái.
Gốc
>
Đọc báo Tiếng Anh
>
EDUCATION
>
English teachers necessarily need to meet international standards?
VietNamNet Bridge – It's very difficult for English teachers to meet the international standards, and it would be not easy for the Ministry of Education and Training to standardize the English teaching staff. Meanwhile, experts believe that meeting international standards should not be an imperative requirement.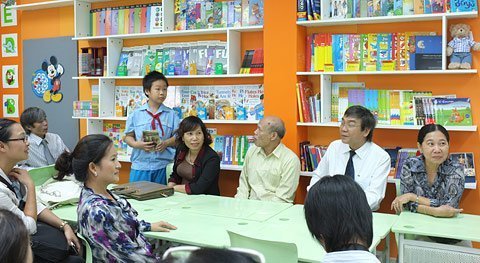 English teachers also have to learn English

Hong Hanh, an English teacher of the Cat Linh Primary School in Hanoi, has been recognized as meeting the B2 standard after following the 3-month intensive training course organized by the Hanoi Education and Training Department (HETD).

Hanh said she is one of the luckiest teachers who passed the English skill test. She attended a lot of training courses to improve the knowledge, including overseas ones.

Therefore, Hanh had met B1 standard before going to the HETD's training course. After the course, where she made a lot of exertion, Hanh and some other colleagues have met the B2 standard.

An English teacher at a high school in HCM City said that it would be not too difficult for primary and secondary school teachers to obtain FCE (First Certificate in English) of the Cambridge University, which is equal to 6.0 IELTS. However, it would be a difficult task for high school teachers, especially the old ones, to obtain 7.5 IELTS.

It would be not a big problem for the teachers who have just finished university education. Meanwhile, the old teachers, who have lost some knowledge over the last many years, would find it difficult to review lessons for attending exams.

Dung, a teacher of the Thanh Cong B Primary School in Hanoi, said she has been teaching English for the last 20 years, during which she attended a lot of training courses. However, she admitted that she would have to learn very hard to have B1 degree.

A primary school teacher in HCM City said she feels worried stiff about the upcoming exam to obtain FCE, because the knowledge she received at school proves to be not enough for English communication.

Is it necessary for teachers to meet international standards?

This is the question raised by Hoang Ngoc Hung, a teacher of the High School for Talented Students under the HCM City National University.

Analysts have also agreed with Hung that the goals of the foreign language teaching program by 2020 prove to be overly high, while the conditions for teaching English in Vietnam remain very poor.

The teachers and students in rural and remote areas are also required to speak standard English, while they may not have any opportunity to meet and talk to any foreigners in their lives. Should they be required to have standard English?

"I think the goals of the program are far away and they seem to be a little bit luxurious in the Vietnamese conditions," he said.

He believes that in order to upgrade the teachers' English skills, it would be better to follow a long term plan to improve the situation step by step, instead of providing crash training to teachers, thus putting them under a hard pressure.

The list of the lecturers who still cannot meet B2 and C1 standards has been posted on the website of a faculty of the Hanoi National University. Fifteen out of the 27 lecturers who attended the English skill test on May 28, 2011, could not meet the B2 and C1 standards.

So, is it necessary to require general school teachers to meet international standards, while the lecturers, who once trained the teachers, still cannot meet the standards themselves?

Nguyen Hien
---
Phan Thanh Tân
@ 15:50 04/09/2012
Số lượt xem: 554
Số lượt thích: 0 người

TIN TỨC TỔNG HỌP MỚI CẬP NHẬT